Course Overview
Welcome to Bowes Creek Country Club
Course Overview
The centerpiece of a premier, 616-acre residential country-club community in Elgin (Kane County), Bowes Creek Golf Course is an 18-hole public course designed by award-winning architect Rick Jacobson. The environmentally planned golf course integrates all the natural elements the native landscape has to offer, including Bowes Creek, improved woodland and wetland areas, a lake, rolling farmland, stands of mature trees and scenic bluff slopes, to create an aesthetically pleasing, playable and challenging course. The rustic setting features expansive fairways and sweeping bunkers with fingers of grass drifting into the sand and fescue grasses edging the bunker faces. The course has five sets of tees for each hole and distances ranging from 6,900 yards to 5,100 yards to accommodate the dramatically different skill and experience levels of golfers.
COURSE AMENITIES include: a full practice area, complete with an elevated, 30-station driving range with target greens at varying distances, putting and chipping greens, and private lesson tees; a fully equipped proshop stocking name-brand golf equipment and a wide selection of men's and women's golf apparel; and a multipurpose clubhouse featuring locker rooms, a first-class banquet facility for events and gatherings, and Johnny's Supper Club, a casual, cozy, retro Italian eatery restaurant and bar.
MEMBERSHIP is open to the public offering annual memberships and "member for a day" memberships (instead of green fees). Daily membership allows unlimited golf with a cart and full use of the practice facility.
ACCESSIBILITY FOR INDIVIDUALS WITH DISABILITIES: Enhanced access golf carts are available for individuals with disabilities.  These carts have a slower rate of speed and can be fully operated with one hand.  Such enhanced access golf carts also allow easier access of play on the golf course, particularly including the greens, green fringes, and bunkers.  Carts are also available for individuals who are able to operate a standard golf cart, but require increased access.  Such specially marked standard golf carts are permitted to have increased access to the green complexes. If you are an individual with a disability or will be in a group which includes an individual with a disability, please notify the golf staff upon making your reservation that you will require either an enhanced access golf cart or a specifically marked standard golf cart.  Please note that due to the likelihood of severe turf damage, specifically marked standard golf carts must remain off of the greens, fringes of the green, and bunkers. In the case of conditions where there is a likelihood of severe turf damage, any and all golf carts may be restricted to the cart paths as determined by the golf staff.
Due to limited availability, we request that you notify the golf staff a minimum of 48 hours prior to your tee time. If you have any questions regarding enhanced access golf carts, please contact the proshop.
Course Stroke and Slope Ratings

Men's Tee Boxes
Black: stroke: 73.4 / slope: 142
Blue: stroke: 71.7 / slope: 138
White: stroke: 69.5 / slope: 133
Gray: 72.5 / slope: 140
Baby Blue: 70.5 / slope: 135
Pink: 68.3 / slope: 130
Women's Tee Boxes
White: stroke: 74.8 / slope: 137
Red: stroke: 71.6 / slope: 130
Yellow: stroke: 68.1 / slope: 123
Pink: 73.3 / slope: 134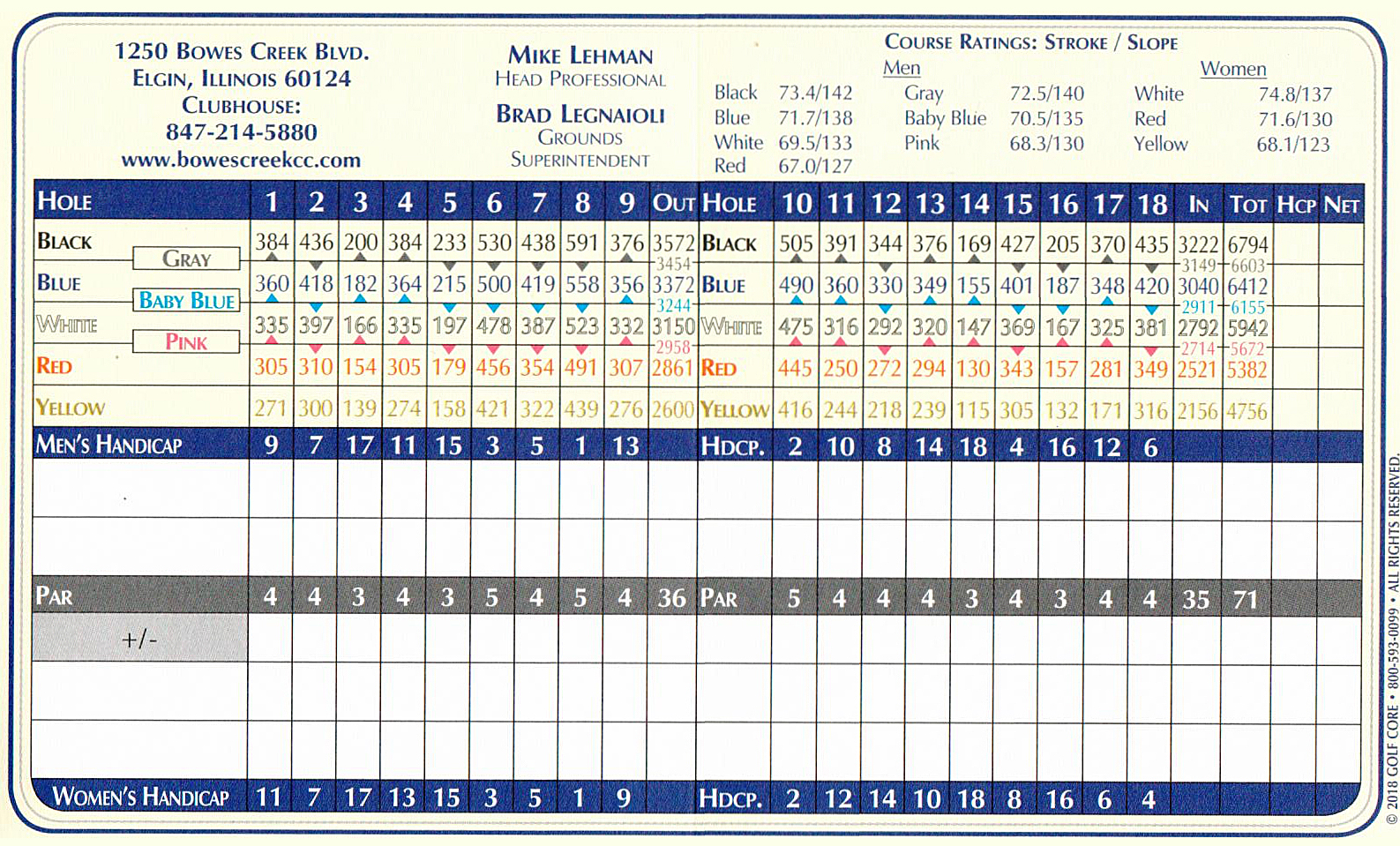 1250 Bowes Creek Boulevard, Elgin, IL 60124  |  847-214-5880